Construction set to begin on Nanaimo airport terminal expansion
by Nicolas Pescod, Nanaimo News Now Feb. 21, 2018
First phase of construction project to begin in March or April.
The Nanaimo Airport is about to get bigger.  Construction is expected to begin on the airport's terminal, which, once completed, will see it increase by 14,000 square feet.
Mike Hooper, the airport's president and chief executive officer, said he expects the project to break ground in March or April.
"It's exciting," he said.  The $14-million project, which includes $5 million in funding from the federal and provincial governments, will see expansions to the terminal's departure lounge, baggage and security screening areas and is expected to be completed by 2019. It's the first phase of a 20-year $55-million expansion plan for the airport that will eventually see the terminal expand from 23,680 square feet to 70,395 square feet.
Hooper said once Phase 1 is complete, the security area will be increased to handle significantly more people and seating in the departure lounge will increase from 140 to 320, adding that all the expansion plans now will help the airport in the long run.
"We are building with a long-term vision," he said. "This $14-million build will set up the security area for the long term."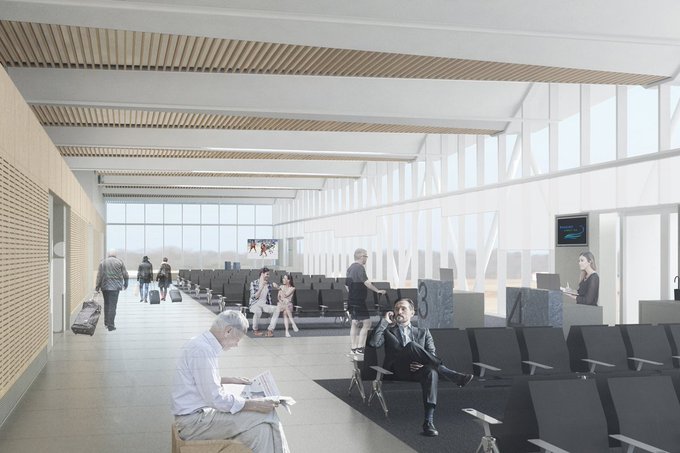 Here's an a look at an artist rendering of the inside of the Airport's expanded terminal.
Hooper explained that the first phase won't cause any disruptions to daily operations at the airport and that staff will available to assist passengers during construction. He said once Phase 1 is complete, there won't be any expansion at the airport for awhile.
"We're going to build for about two years and then we will be good for a number of years before we have to do anything more," he said.
The airport enters 2018 on a high note, having handled 358,000 passengers in 2017 according to Hooper. The airport also saw WestJet add year-round service to Vancouver last year, the construction of a new hanger by Alkan Air and Air Canada Rouge announced non-stop seasonal service to Toronto, which is expect to begin in June.
Hooper said that with the addition of the new routes, the airport is expecting to handle 406,000 passengers this year. He said the airport's runway can handle the Boeing 737-700 and Boeing's new 737-MAX7, which has an extended range compared to previous generations of the 737.
"Our runway will be able to reach all of North America, Hawaii and the Caribbean," he said. "As the population grows and the people using YCD increase, the air carriers will start direct services to a number of destinations in North America, Hawaii and Cuba into the future. It's not a matter of if, but when."
Back To News & Media
Share Now On Social Media